The USF Pandemic Response Research Network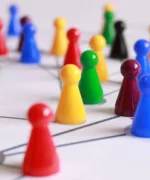 Lessons Learned through a Highly Integrative Basic and Responsive Research (HIBAR) Approach to COVID-19

The recent COVID-19 pandemic has highlighted the significant threats that pandemics pose to all aspects of our lives, including physical and mental health, economics, education, environment, public policy, and communication. Given the complexity, diversity, and speed of these global impacts, governments, institutions, and individuals must collectively develop and implement multidisciplinary and timely approaches to mitigate them. Universities provide a critical asset for addressing pandemic mitigation, as these institutions possess broad intellectual capital that can be leveraged to guide national and global responses.
Universities across the world responded to the COVID-19 pandemic in different ways, implementing a variety of strategies that link disciplinary expertise with specific societal needs. The University of South Florida took a unique and effective approach, by adapting a rapid response research network concept that essentially integrates HIBAR principles to address the wide-ranging aspects of the COVID-19 pandemic.
Watch the full webinar recording and a short video with key takeaway messages below. 
Read the key takeaway messages from all of our webinars here.
The webinar speakers discussed the USF Pandemic Response Research Network (USF-PRRN), highlighting the HIBAR features of the network and how the USF-PRRN concept can be applied to other global challenges. They described:
USF's initial leadership response to SARS-CoV-2 and COVID-19 Pandemic;
how USF leveraged its intellectual capital;
the formation of a HIBAR Pandemic Response Network;
how USF provided institutional incentives;
the long-term sustainability of the network;
the institutional return on investment; and
models for HIBAR research networks that can meet current emergent global challenges.
You can read more here about the USF Pandemic Research Response Network and how the concept can be applied to address other global challenges.
Watch the full webinar recording
Watch key excerpts from the webinar