Permanent Carbon Removal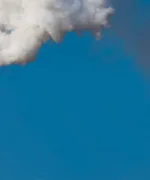 Creating sustainable solutions for permanent carbon removal at scale

There is an urgent global effort to reduce the amount of carbon dioxide in the atmosphere in order to mitigate climate change. While many industries are striving to transition away from the fossil fuels-based energy sources that have generated this atmospheric carbon dioxide, it is widely understood that a full transition to renewable energy sources will take several decades, and in the meantime there will be an ongoing reliance on fossil fuels. As a result, parallel efforts to develop effective strategies for reducing atmospheric carbon emissions, by capturing and storing the carbon dioxide, are an essential part of the global climate change mitigation effort. The next decade is critical for scaling up and commercializing carbon removal technologies.
UCLA's Institute for Carbon Management (ICM), led by Professor Gaurav Sant, is tackling this challenge of creating and developing sustainable solutions for carbon removal, and demonstrating that they are effective at a scale that is globally relevant in a range of carbon-intensive industries, including power plants and cement and concrete manufacturers. The technologies they have developed ensure carbon removal that is both durable and permanent, locking away the carbon for thousands of years or more.
Watch the full webinar recording and a short video with key takeaway messages below.
Read the key takeaway messages from all of our webinars here.
Gaurav Sant
Pritzker Professor of Sustainability
Director, UCLA Institute for Carbon Management
Thomas Traynor
Technical Lead, Technology Translation Team
UCLA Institute for Carbon Management
The work at ICM is an excellent example of HIBAR research: projects pursue new knowledge that is needed to develop solutions to an urgent and global problem, in deep partnership with experts in industry, government, and non-profit organizations. Webinar speakers Gaurav Sant and Thomas Traynor will describe how ICM approaches this HIBAR work, including the challenges of demonstrating technology scalability in a university laboratory environment and bridging skills gaps by integrating experienced industry professionals within the university-based team. With this approach, ICM has demonstrated that it can successfully navigate a field that is moving quickly and is likely to have near-term global impact.
Watch the full webinar recording
Watch key excerpts from the webinar