Useful related books, reports, and other publications
The Code Breaker: Jennifer Doudna, Gene Editing, and the Future of the Human Race
by Walter Isaacson, published by Simon and Schuster (2021)

The Code Breaker offers a fascinating account of the development of the CRISPR-Cas9 gene-editing technology, an excellent example of a profound breakthrough resulting from HIBAR research.
The Fifth Wave: The Evolution of American Higher Education

by Michael M. Crow and William B. Dabars, published by Johns Hopkins University Press (2020)
Research universities play a significant role in discovery, creativity, and innovation but they face a number of barriers that make them less able to respond to the changing needs of society. The authors describe the emerging standard of research universities that will better align them with the needs of society in many ways, including contributing solutions to global problems.

Who's Brave Enough to Invest in Saving the Planet?
by Wade Roush, published in Scientific American (2020)
A few brave investors are investing in long term research by start-ups that aim to solve the world's most challenging problems.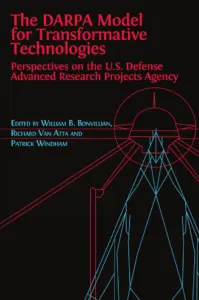 The DARPA Model for Transformative Technologies – Perspectives on the U.S. Defense Advanced Research Projects Agency
Edited by William B. Bonvillian, Richard Van Atta, and Patrick Windham, published by Open Book Publishers (2019)
This book is a collection of the leading academic research on DARPA from a wide range of perspectives, combining to chart an important story from the Agency's founding in the wake of Sputnik, to the current attempts to adapt it to use by other federal agencies, including at ARPA-E and IARPA. This book is an essential guide for political and policy leaders, as well as for researchers and students interested in understanding the success of this technology agency and the lessons it offers.

Jumpstarting America: How Breakthrough Science Can Revive Economic Growth and the American Dream
by Jonathan Gruber and Simon Johnson, published by Public Affairs (2019)
Beginning in 1940, massive public investment generated breakthroughs in science and technology that led to the most successful economy the world has ever seen. Private enterprise then built on these breakthroughs to create new industries that became the catalyst for broader economic growth that generated millions of good jobs. The authors tell the story of this first American growth engine and provide the blueprint for a second.

Return on Investment Initiative – Unleashing American Innovation
Special Publication 1234 of the U.S. National Institute of Standards and Technology (2019)
This green paper serves as a discussion document that informs policy decisions by the federal government. Incorporating extensive feedback from industry, academic and government stakeholders, the report describes options for enhancing how federally funded inventions move from the laboratory to the marketplace.

Innovation and National Security: Keeping our Edge
Independent Task Force Report, Council on Foreign Relations (2019)
The United States needs to advance a national innovation strategy to ensure it remains the predominant power in a range of emerging technologies. Innovation and National Security: Keeping Our Edge outlines a strategy based on four pillars: restoring federal funding for research and development, attracting and educating a science and technology workforce, supporting technology adoption in the defense sector, and bolstering and scaling technology alliances and ecosystems.

Government-funded research increasingly fuels innovation
by L. Fleming, H. Greene, G. Li, M. Marx, and D. Yao, published in Science (2019)
Despite an increase in industrial spending in the US, firms appear to be pursuing less basic science. This article illustrates an increased dependence upon federally supported research as a source of scientific knowledge. Federal research increasingly appears to fuel the innovation that ultimately leads to jobs, industrial competitiveness, and entrepreneurial success.

Twin-Win Model: A human-centered approach to research success
by Ben Shneiderman, published in Proceedings of the National Academy of Sciences 115(50) (2018)
This paper describes a problem-oriented approach to research, which encourages formation of teams to simultaneously pursue foundational discoveries and powerful innovations. Evidence from citation analysis and researcher interviews suggests that this simultaneous pursuit of both goals raises the chance of breakthrough success.

Anatomy of use-inspired researchers: From Pasteur's Quadrant to Pasteur's Cube model
by Robert J.W. Tijssen, published in Research Policy 47 (2018)
This paper addresses a shortcoming in the Pasteur's Quadrant model by introducing an additional categorization for describing sub-types within the larger group of researchers who engage in use-inspired research. Introducing the 'Crossover Collaborator' subtype helps to explain why Pasteur type researchers tend to outperform in publication output and citation impact.

The decline of science in corporate R&D
by Ashish Arora, Sharon Belenzon, and Andrea Patacconi, published in the Strategic Management Journal (2018)
This article documents a shift away from science by large corporations between 1980 and 2006. Large firms still value the golden eggs of science (as reflected in patents), but seem to be increasingly unwilling to invest in the golden goose itself (the internal scientific capabilities).

Thoughts on improving innovation: what are the characteristics of innovation and how do we cultivate them?
by Victor Poirier, Lyle H. Schwartz, David Eddy, Richard Berman, Selim Chacour, James J. Wynne, William Cavanaugh, Dean F. Martin, Robert Byrne, and Paul R. Sanberg, published in Technology & Innovation (2017)
This paper reviews current thinking about innovation and identifies key innovative traits as initial steps in exploring the feasibility of teaching innovative thinking. In particular, it identifies characteristics of innovative environments.

The new ABCs of research: Achieving breakthrough collaborations
by Ben Shneiderman, published by Oxford University Press (2016)
A growing number of initiatives are promoting more integrated approaches to research so as to promote the expansion of these efforts. This book is intended as guide to students and junior researchers, as well as a manifesto for senior researchers and policy makers, challenging widely-held beliefs about how applied innovations evolve and how basic breakthroughs are made.

Cycles of invention and discovery: Rethinking the endless frontier
by Venkatesh Narayanamurti and Toluwalogo Odumosu, published by Harvard University Press (2016)
Most major breakthroughs arise from integrated research that spans the gap between basic and applied. There are multiple feedback loops: with society, with applied research, and with basic research. In general, emergent phenomena often arise in complex systems that cycle between invention and discovery.

Saving science
by Daniel Sarewitz, published in The New Atlantis (2016)
Much of science has lost sight of the better world it is supposed to help create. To save the enterprise, the author argues that scientists must come out of the lab and into the real world. Only through direct engagement with the real world can science free itself to rediscover the path toward truth.

Educate to innovate: Factors that influence innovation
A consensus study report published by National Academies Press (2015)
The aim of the Educate to Innovate project is to expand and improve the innovative capacity of individuals and organizations by identifying critical skills, attributes, and best practices – indeed, cultures – for nurturing them. This report summarizes the keynote and plenary presentations from a 2013. workshop that brought together innovators and leaders from various fields to share insights on innovation and its education.

The idea factory: Bell Labs and the great age of American innovation
by Jon Gertner, published by Penguin Books (2012)
From the 1920s until the 1980s, Bell Labs was the biggest, and arguably the best, laboratory for new ideas in the world. This book traces the origins of some of the twentieth century's most important inventions and delivers a riveting and heretofore untold chapter of American history. Today, when the drive to invent has become a mantra, Bell Labs offers us a way to enrich our understanding of the challenges and solutions to technological innovation.

The Great Stagnation: How America Ate All of the Low Hanging Fruit of Modern History, Got Sick, and Will (Eventually) Feel Better
by Robert Tyler Cowen, published by Dutton (2011)
Our economy has enjoyed low-hanging fruit since the seventeenth century: free land, immigrant labor, and powerful new technologies. But during the last forty years, the low-hanging fruit started disappearing, and we have failed to recognize that we are at a technological plateau. This is a passionate call for a new respect of scientific innovations that benefit not only the powerful elites, but humanity as a whole.

The challenge of remaining innovative: Insights from twentieth-century American business
By Sally H. Clarke, Naomi R. Lamoreaux, and Steven W. Usselman, published by Stanford University Press (2009)
Innovation is a complex phenomenon that may be organizational as well as technological, and involving matters not only of research and development, but also of marketing, design, and government relations. It delineates how entrepreneurship has persisted and accentuates how ongoing organizational re-arrangement has contributed mightily to its sustained vitality.

Pasteur's quadrant: Basic science and technological innovation
by Donald E. Stokes, published by Brookings Institution Press (1997)
It is difficult to pinpoint the origins of today's understanding of HIBAR research, but most agree that Donald Stokes made a key contribution in his book Pasteur's Quadrant, which brilliantly brought into clear focus, for broad audiences, a body of work that innovation economists and science policy scholars had written about for decades. Stokes espoused the power of investigations that combined the characteristics of basic and applied research.