Catalyzing Change by Supporting Embedded Expertise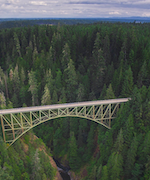 Researchers and Practitioners Partner to Transform Education and Stimulate Teaching and Learning Excellence
Much has been learned in recent years about postsecondary instructional methods that lead to better student learning, but these methods are not yet widely implemented, predominately because their implementation requires a change in academic culture, not simply changes in individual behavior. The "Transforming Education, Stimulating Teaching and Learning Excellence", or TRESTLE, project is a leading example of ongoing efforts to address this culture-change challenge.
Led by the University of Kansas, TRESTLE is a collaboration of seven research universities that aims to help Science, Technology, Engineering, and Mathematics (STEM) departments transform undergraduate courses in order to improve undergraduate learning and educational outcomes. The TRESTLE model involves embedding STEM education experts (specially prepared postdoctoral scholars or faculty leaders) in departments, to collaborate with department faculty to guide and support the implementation of research-based educational practices. 
In this webinar, TRESTLE leaders Andrea Follmer Greenhoot and Caroline Bennett described the HIBAR research characteristics of the project, and the synergy generated by the "embedded expertise" partnership between researchers and educators. They also shared insights they have gained about catalyzing academic culture change, including how collaboration among similar institutions increases the opportunity for good ideas to emerge and spread.
Dr. Andrea ("Dea") Follmer Greenhoot is Professor of Psychology, Director of the Center for Teaching Excellence and Gautt Teaching Scholar at the University of Kansas. Dea serves as Director of the Bay View Alliance and is principle investigator of the BVA's TRESTLE project.. 
Dr. Caroline Bennett is Professor of Civil, Environmental and Architectural Engineering and Dean R. and Florence W. Frisbie Associate Chair of Graduate Studies at the University of Kansas. She also serves as a campus leader for the TRESTLE project. 
Watch the full webinar recording
Watch key excerpts from the webinar