Enhancing the Graduate Student Experience by Accelerating Collaborative Research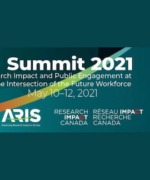 Poster presentation at the ARIS 2021 Broader Impacts Summit
In May 2021, the HIBAR Research Alliance presented a poster at Summit 2021: Research Impact and Public Engagement at the Intersection of the Future Workforce, co-hosted by Advancing Research Impact in Society (ARIS) and Research Impact Canada (RIC).  
Co-authors Elicia Maine (Simon Fraser University), Susan Porter (University of British Columbia) and Lorne Whitehead (University of British Columbia) described that enhancing the graduate student experience by accelerating collaborative research can generate a positive feedback loop.
Watch a 3-minute video of the poster presentation here.
Poster description: Universities have an opportunity to enable a greater number of university-based researchers to partner deeply with problem-solvers in non-university portions of the research ecosystem, focusing on impactful projects that are intended to simultaneously discover new knowledge and address societal problems. These projects are termed "highly integrative basic and responsive" (HIBAR). Beyond their core goals, HIBAR projects also offer valuable experiential opportunities for a wide range of students leading to many different career paths. This arrangement creates a positive feedback loop – as more HIBAR-experienced students enter the workforce, they can help co-create and co-lead more university HIBAR collaborations that in turn create new HIBAR research opportunities for another generation of students. Actions are underway to catalyze changes needed to encourage a significant increase in HIBAR research within universities over the next 10 years and, in light of these prospective changes, it is necessary to initiate parallel discussions about HIBAR opportunities for students.